Overview
This brief guide will provide information on reviewing Respondent pre-work submissions.
Once respondents start submitting responses, the ability to view incoming submissions in real-time becomes available, along with any submitted comments they may add.
These submissions can be reviewed before a respondent is assigned to an interview, anytime before the interview begins, in the meeting room for all moderators and observers in the interview, and after the interviews have been completed.
Additionally, if a respondent has been assigned to a session and has submitted pre-work for that project, that pre-work can be used as stimuli for that interview to which the respondent has been assigned. To learn more about using pre-work as stimuli in an interview, click here.
Review Submissions for Respondents Not Assigned to Sessions
Interested in reviewing a respondent's progress with the pre-work assigned to them, but not ready to schedule them for an interview without seeing that content first? No problem!
Head to the 'Respondents' tab in the project, and head to the 'Respondent Hub' tab.
Click the 'Add/Edit Respondents' button.
If a respondent had submitted pre-work assigned to them (even if only partially complete), it will be accessible in the play button under the pre-work column in this dialogue.
Review Submissions for Respondents Assigned to Sessions
Once a respondent has been invited to an interview, the status of the pre-work submitted will be available to review on the Respondent Hub status page in the 'Pre-Work Status' column.
Status updates include 'Not Sent', 'Completed', and 'Done!'. All submissions will be available for review as respondents submit, even if the pre-work is not fully completed.
Submissions can also be viewed from the 'Add/Edit Respondents' dialogue before and after participants are assigned to the interview.
Review Submissions in the Meeting Room
Once a moderator or observer has entered the meeting room, they will be able to review submissions through the participant list.
Click the Pre-Work tab, to review all the pre-work submitted by any of the respondents in the interview.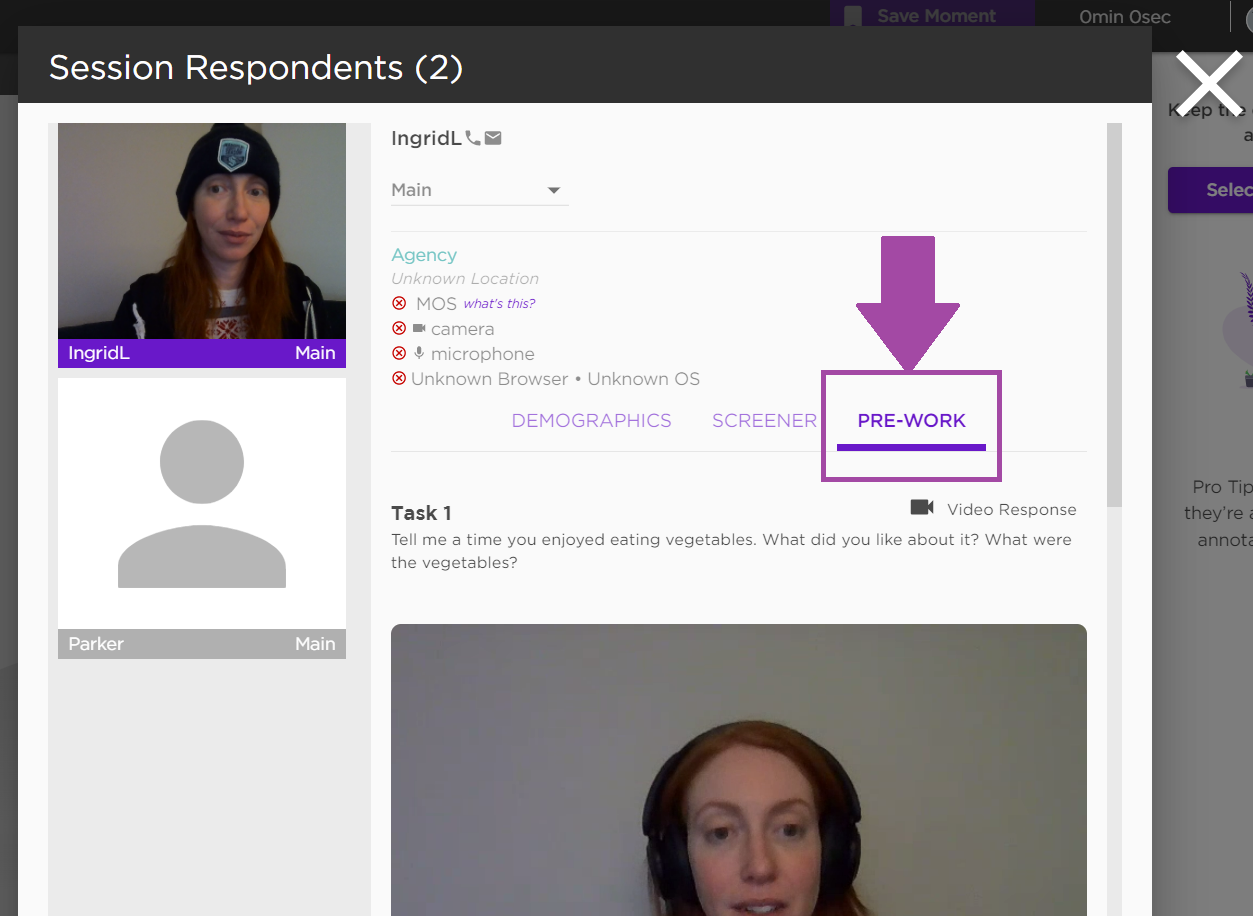 Review Submissions After an Interview Has Been Completed
To find the submitted pre-work after an interview has been completed, head to the 'Past Interviews' area on the 'Overview' page to review the content, by clicking on the respondents for that session.
Omni-recruiters and recruiters will also have access to reviewing the pre-work submissions for their respondents in the 'Completed Interviews' tab of the 'Respondent Hub'.
Related Articles