Overview
Our polling feature is an interactive tool to ask single or multiple-choice questions to help moderate opinions from panelists in your upcoming sessions. Prior to your sessions, you will be able to create polls to add a more quantitative way of gathering information during the session and refer back to the data with some added aggregated trend analysis, using our great insights platform. The poll responses can also be shared with your panelists. You will also have the ability to label each of your polls ahead of your sessions, in case you will need to re-ask the same question again.
Polling Permissions
To create a poll, you will either need to be designated as a project owner or editor in your project. Collaborators will have access to view all polls prior to the interviews, but will not have editing capabilities.
Adding Polling Questions to Your Interviews
Head to the 'Interview Prep' part of your dashboard, and click the new 'Poll' tab.

The default landing page will already have a new poll template ready for you to start creating your first poll.
It is important to note, that this section of the platform is the only section in which you are able to edit polls. If you add/edit polls during a session, you will need to refresh your browser to see the edits before launching a poll. If the poll is live, everyone in the meeting room will need to refresh their page to see the changes.
We have added an optional labeling feature to each question to help best organize your process for both the launch of the poll in the meeting room and also to easily identify the results on the insights page. These labels will not be visible to the participants through any portion of the flow.
It is important to remember that each poll and its results will lead to a unique capture of data. If you plan to launch the same question in one interview, the best practice is to create two separate questions and label them as needed to easily identify the launch of the correct question. If you relaunch the same question, you will lose all previous data collected within that interview.
Type out your question.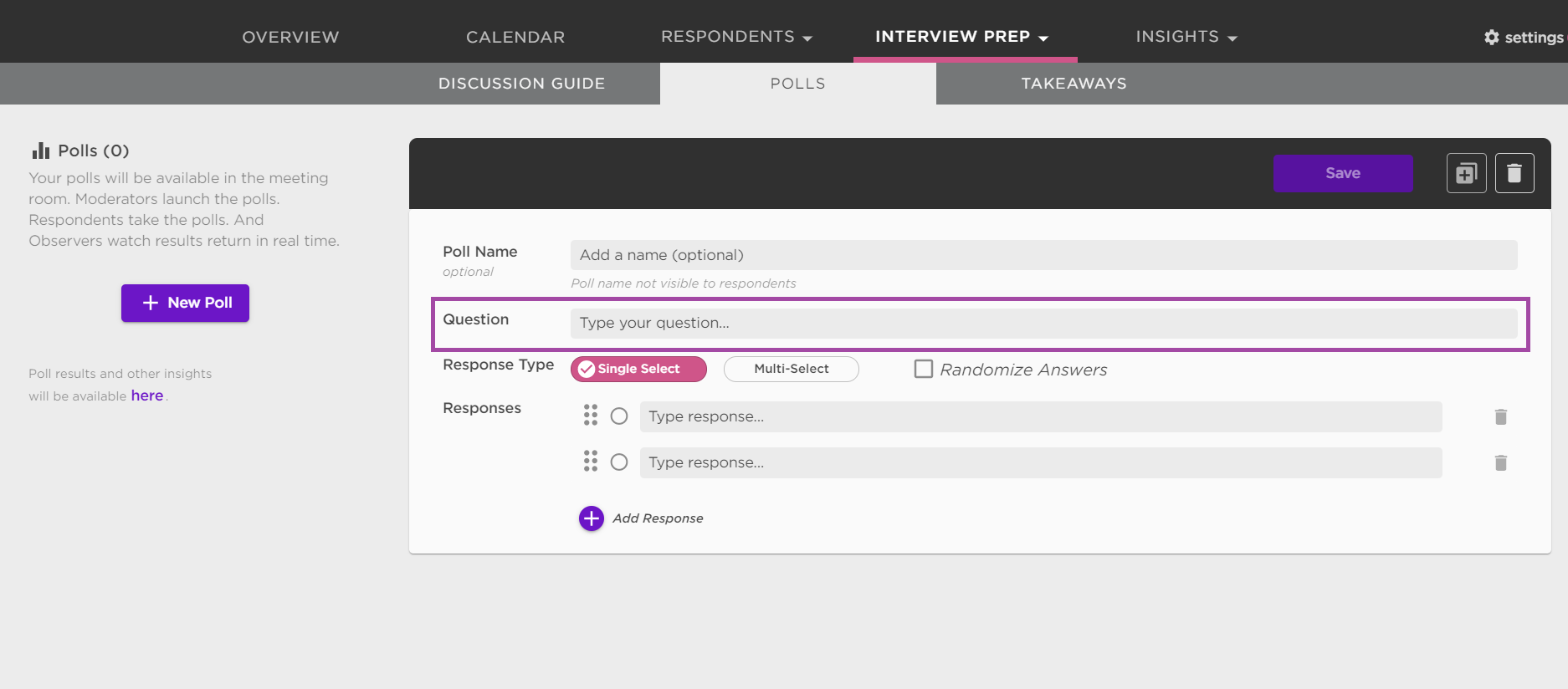 You will also be able to choose the question type you would like to ask. Currently, we only support single-select and multi-select answer types. Single select questions will be identified with circle choice options and multi-select will be identified with squares.
We have also added a unique feature to help randomize the choices to your participants to help eliminate bias when collecting responses from your respondents.
When creating and adding additional responses, your poll will always keep aggregating the initial response data to compare, and any new additions will also be added to that aggregate information. You can also always switch the order of the responses or delete them at any point.
You can always duplicate or delete your polls. If keeping the polls exactly the same when duplicating, labeling your polls would be a best practice.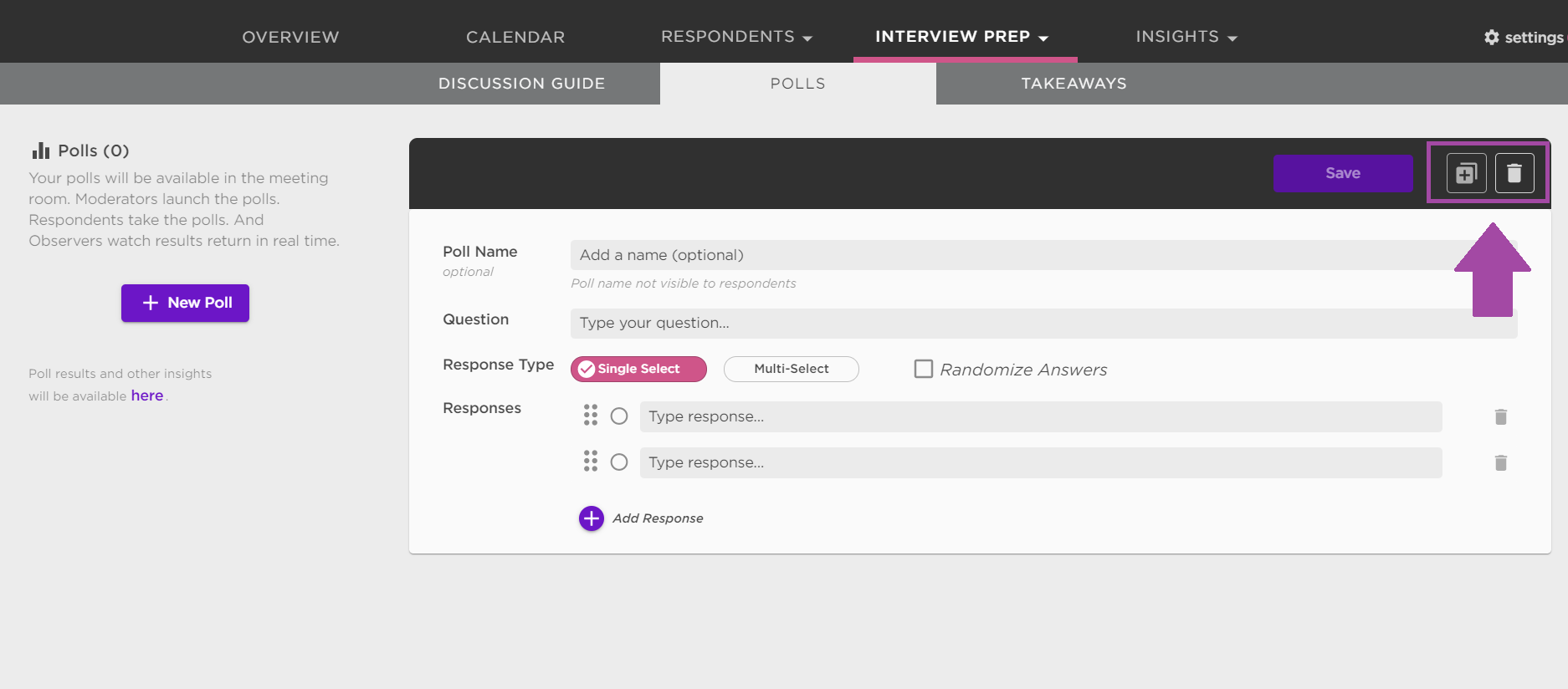 When you are done creating your poll and before you leave the page, be sure to save your poll to avoid losing any of your information.
You can also choose to create a new poll at any time, and create multiple polls at one time. Every time you hit new the poll option, the new poll template will always appear at the top of the list.
For a shortcut to review all your polling results, you can click the link below, or head to the 'Insights' tab and choose 'Polling Results'.
Related Articles