Overview
This article summarizes what is required to attend a session as a Consecutive Translator. How to log into a session as a Translator and what to expect when you join the meeting room.
Before you begin
Create an account with Discuss.io if you have not done so already. Interpreters are now required to log in to attend their sessions so that we can have better visibility on who is joining each session and increase security on our platform.
Make sure that your computer meets the system requirements, and don't forget to check the interview best practices.
Instructions
Open the URL link you received prior to the session. The link should look like https://app.discuss.io/######/t where ###### is a 6-digit number.

Follow the prompts to log in, or create your account if this is your first time.

You will be taken to the Audio/Video Device selection page that looks like this.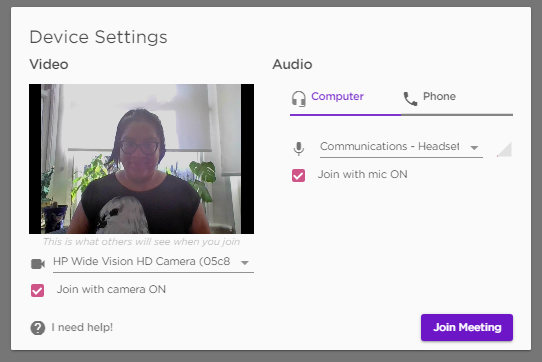 4. Select your audio and video devices from the drop-down menu if required and click save
5. Upon clicking Save, you may see a welcome message if the Moderator has not yet joined the session.
6. Once the Moderator has joined, you will join the meeting room. You will be seen and heard by other users in the room.
As a consecutive translator, you have access to the Backroom chat, if you need to communicate with the moderator, support agent, or observers.